In-Game Guides for WoW and ESO
Power level your characters, make thousands of gold, earn achievements, and more...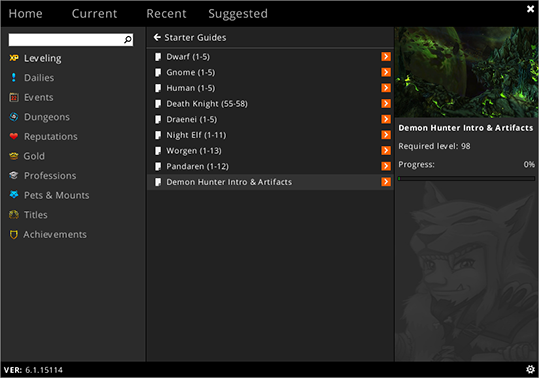 A better way to play.
Zygor Guides are high quality in-game strategy guides for World of Warcraft that will walk you step by step through every aspect of the game. We've done all the research for you so you can spend less time searching for help and more time enjoying the game.
Do things more efficiently.

Our guides our optimized so that you're always using the fastest routes and completing quests and objectives in the most efficient order.

Accomplish more in less time.

Zygor Guides allows you to get more done in a fraction of the time, allowing you to easily keep up with your friends and guildmates.

Unlock your full potential.

With Zygor, you'll be able to max out your characters without all of the complexity and frustration involved.
Zygor Guides Viewer
in-game guide addon
Fully in-game guide addon tells you exactly what to do and where to go.
On screen waypoint arrow points you to the locations of npcs, quest objectives, and more.
Dynamically syncs up with your characters, detects your progress, and automatically advances through the guide as you complete each step.
Points you every step of the way.

The built-in Waypoint Arrow will tell you exactly where to go for every step in our guides. You'll never have to backtrack or wander around not knowing what to do or where to go next.

In depth and highly detailed.

We take extra care to include detailed travel directions and strategic combat tips for the more challenging parts of the game.

Dynamically detects your actions.

Zygor's In-Game guides can track your progress while you play and update in realtime, automatically moving ahead in the guide as you complete each step.
Guides included in
Zygor Elite Membership
World of Warcraft
Elder Scrolls Online
Key Features:
3D Waypoint Arrow:
Our 3D waypoint arrow is the ultimate companion to our Guide Viewer. It points you exactly where you need to go for every objective in our guides and best of all, you can place it anywhere you like on your screen.
Gear Suggestions:
Our guide can alert you to new gear lands in your inventory the guide will notify you that an upgrade is available and can even auto-equip it for you.
Travel System:
Getting around the world is made even easier with the Travel System, an in-game GPS that dynamically finds the fastest route to your next location taking into account flight paths, hearthstones, portals, and more.
Quest Reward Advisor:
Whenever you complete a quest that gives you the choice of picking a reward our guide will highlight the best reward for your class, or if none are available, the item that can be resold for the most gold.
Smart Injection:
Want to use our guides on characters you've already leveled up? No problem. Our Smart Injection System will scan your quest history and automatically find the best place for you to start in the guides.
Synchronized Settings:
Our guides are very configurable you can now save your preferred guide settings and keep those same settings in sync across all of your characters.
Notification Center:
Easily keep track of all the important alerts and reminders that our guides will notify you about using the Notifications Center.
Always Up To Date:
Our full time team of guide writers and programmers always keep our guides and addons up to date whenever new content is added through patches or expansions. Read our update policy.
100% Safe To Use. Will Not Get You Banned.
All of our products follow Blizzard's Terms and Service and are guarenteed not to get you banned. Even Blizzard agrees: