Zygor Elite Membership
Experience all of Zygor for one low fee.
For around the cost of a fast food meal you can own the entire Zygor Guides suite (15 guides in total for two games) for one low monthly fee. This includes instant and unlimited access, as long as you are subscribed.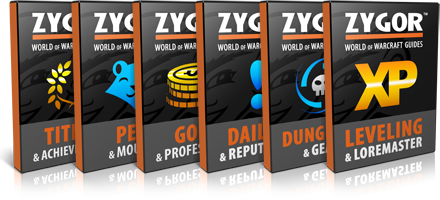 Already own some guides? Log in to see your personalized offer to go Elite!
Why Choose Zygor?
No Expansion Upgrade Fees
Previously, whenever a new expansion came out, customers would have to pay additional upgrade fees for the new content. With Zygor Elite you never have to pay additional fees for new expansions. This includes the upcoming Legion expansion.
Practically pays for itself.
With the introduction of the WoW Token players can now pay for their subscription using in-game currency. With Zygor Gold Guide (included in Zygor Elite) you'll be able to easily amass enough gold to pay for your WoW subscription.
Earn Rewards and Win Prizes
As an added perk of being a Zygor Elite member you'll be able to earn rewards, unlock discounts, and even be entered to win prizes in our contests and giveaways.
Cancel online anytime.
With Zygor Elite you join and cancel at anytime. This is great for players who play World of Warcraft on and off throughout the year. Simply cancel your subscription and you won't be rebilled any further. Rejoin whenever you like.
Testimonials
I wouldn't play WoW without Zygor!
Just wanted to send my appreciation your way for making a fantastic guide! This has not only improved my gameplay, but I always know what I am doing is in the right order and the guide makes it SO easy to accomplish any quest with ease. I've always dreaded playing WoW because of the terrible map system it has. Your product is 100% my reason for being able to play this game with enjoyment.
The best money I've ever spent on a guide like this.
Being a totally new player, this is exactly what I need. I don't feel as lost and overwhelmed now, I feel on equal ground with all the veteran players. I just want to express my thanks to the genius that created this software. The installation was a breeze and took mere seconds. Everything is very professional.
- bgc888
I love Zygor
I started playing WoW back when Wrath started and at first was overwelmed by the quest and trying to catch up to my friends who where lvl 80. With no help I stopped playing. For about a month. I searched for help with quest and found Zygor with Google. I ordered it and instantly got all the Alliance guides. I love it. Thankyou for helping me ingame and allowing me to love the game and introduce to my daughter who at 17 still looks forward to hanging with dad.