User Manual
Installation
Setup
Guide Menu
Guide Viewer
Navigation
Additional Features
How To Use:
Gold and Auctions Guide:
Troubleshooting:
Home
It order to begin using your guides you will first need to choose which one you would like to use. To do this you will need to use the Guide Menu which is the central hub for browsing and loading all guides. It can be accessed at any time by clicking the orange down arrow button on the Guide Frame.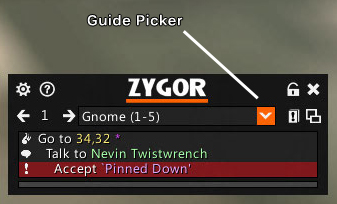 The first screen you'll be taken to is the Home screen: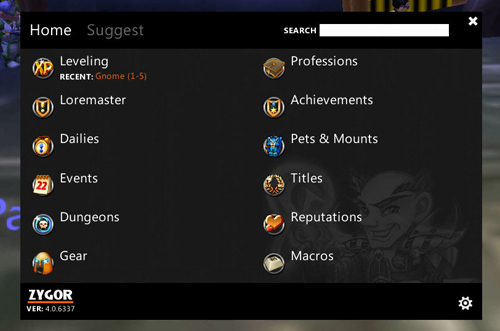 This will display all the different guide types available to you. By default we include trial versions of all of our guide types.
Once you select a guide type the view will change to a foldered structure showing you the individual guides available to you. What you see will depend on which products you have purchased.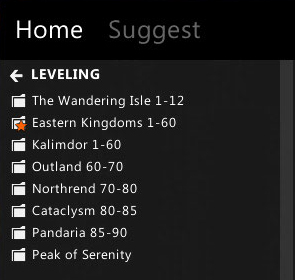 To navigate, left click to go deeper inside a directory, and right click to go back up one.
You may notice some entries are color coded. Here are what the colors mean:
Green - Valid
Yellow - Suggested
Red - Invalid
Gray - Obsolete
Guides with green text are deemed suitable for your character. Yellow coloring represents a suggested guide.

A folder with an orange star over it means a suggested guide is inside that folder.
Red means that particular guide is either too high level or you don't meet the requirements in some way. Gray is a default selector color but it is also used to indicate guides you have already completed or are obsolete for your character.
Once you have found the guide you're looking for, click ACCEPT to load that guide. You can also go back to the main menu at any time by clicking "Home".

Note:
If you think that you are missing any content that you purchased please see our troubleshooting section or contact our Support Team.