User Manual
Installation
Setup
Guide Menu
Guide Viewer
Navigation
Additional Features
How To Use:
Gold and Auctions Guide:
Troubleshooting:
Titles, Reputation, and Macros
Our Titles and Reputations guides are written in a similair vein as our Leveling guides, walking you through the appropriate steps needed to earn Titles and increase your standing with the various factions in World of Warcraft.
Macros
Zygor's Titles and Reputation guide also comes with many pre-written macros for you to use with your characters. Macros are groupings of several slash commands that execute together when you click a button. This will allow you to perform several actions at once, or in an easier to use sequential order, all with the click of a single button. You can access these by clicking Macros from the Home tab of the Zygor Menu, and selecting your respective class.
Each macro will explain what it does on the right panel with options to either add the macro to the games Macro Panel or place the the Macro on your action bar.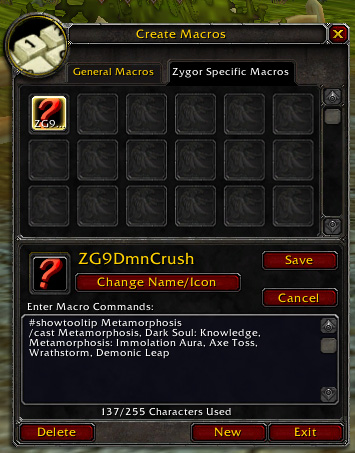 Install
Clicking "Install" will automatically create the macro for you and insert it into the games Macros Panel, which can be accessed by pressing ESC / Macros


Place on Bars
Clicking "Place on Bars" will automatically create the macro for you and place it on the first open space of your action bar.