World of Warcraft

Leveling and Loremaster

Platform: PC/Mac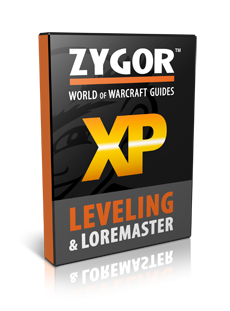 Zygor's Leveling and Loremaster guide is the ultimate tool for players who want to level up quickly and earn the coveted Loremaster achievement. This guide will lead you quest by quest through every zone, telling you exactly where you need to go, how to complete objectives, and everything else required to reach level 110 in the fastest time possible.
Level from 1 to 110 in less than 4 days played time.
Don't think. Just play.
Step by step walkthrough guide will tell you where to go, what NPC's to talk to, which quests to accept, where to find quest items, and how to complete quest objectives.
Never get lost again.
The guide uses optimized routes for getting around each zone, including detailed travel instructions for cave and building entrances as well as other hard to reach locations.
Do Things More Efficiently.
Our guide will have you complete multiple quests at once when they can be done together and save you the frustration of heading back to town only to discover you could have done multiple things at the same time or place.
Accomplish More In Less Time.
You'll be leveling so fast and saving so much time that you'll be able to have a level 110 character for both factions and as many classes as you like. Enjoy the freedom and variety of a character screen with endless options to choose from.
Guide Content Overview
Starter Guides for every race:

The guides include 1-13 starter zone guides for all 10 of the games races. Also includes a 98-100 guide for the all new Demon Hunter class.

Guides for every zone in the game:

Our complete 1-110 walkthrough covers every zone in the game between both factions, including the areas of Kalimdor, Eastern Kingdoms, Outland, Northrend, Pandaria, and Draenor.

Additional guides for Loremaster:

We give you one set of guides optimized for speed, and another set for storyline completion. This allows you to power level to 100 and then go back and complete all the storylines needed to earn the Loremaster achievement.

New in Legion:

Artifacts - Legion introduces new weapons called Artifacts that are based on legendary weapons and are used for the entire 100-110 guide. Our guide will walk you through obtaining all the artifacts weapons for all of your classes different specs.

Class Order Halls - also new in Legion are Class Order Halls, which are special hubs (similiar to Garrisons in Draenor) just for members of your class which you can upgrade and recruit champions to go on missions for you for extra rewards. Our guide will walk you through all the Class Order Hall questlines in Legion.

Bonus Garrison Guide:

The Garrison guide will help you figure out which buildings you should create for your character and the quickest way to level your Garrison up to rank 3. It also includes guides for obtaining all the followers that you can assign to buildings and send on missions.
Key Features:
Points of Interest
The zones in Draenor and Legion are littered with treasures and rare spawns that give the same amount of XP as quests. With Zygor's Leveling guide these points of interest are displayed directly on your map and can be clicked at anytime to add them underneath your current guide step. The guide will then switch focus to the POI, direct you to its completion, and tell you how to complete it.
Travel System.
Our built in Travel System acts like a GPS for Azeroth, dynamically calculating the fastest route to your next objection and displaying the results right under the 3D waypoint arrow.
Smart Injection System.
Zygor's Leveling guide works on both new and existing characters. Our Smart Injection System will look through your characters past quest history and skip to the best place in the guides for you to start.
Notification Center.
The Notification Center helps you keep track of all the important alerts and reminders that our guides will notify you about from time to time.