World of Warcraft

Titles and Achievements

Platform: PC/Mac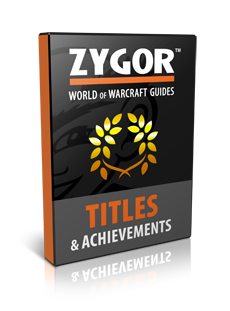 Show off your greatest achievements and win favor with Zygor's Titles and Reputations guide. This comphrensive guide will help you unlock dozens of unique titles to display in front of your characters name and show you the easiest way to raise your reputation so you can acccess exclusive rewards only sold by the games various factions.
It's time to earn your bragging rights.
You're entitled to show off a little.
Titles are like trophies you wear above your head that other players can see. Zygor makes the process of obtaining titles unbelievably easy with our simple and streamlined guides.
Unlock rare and unique titles.
Our extensive guide content covers some of the most rare and sought after titles, including complex titles like the "Crusader" title, as well as classic ones like "Jenkins" and new additions like Tanaan Jungles "Predator" title.
Achievement hunters ultimate tool.
There are hundreds of achievements in World of Warcraft and many involve a extensive or lengthy process to unlock. We save you the time and frustratation of having to look up tips or watch videos by providing all of this information right inside the game.
Become an overachiever.
Achievements can often be complex, requiring you to complete checklists of tasks all over the world in order to unlock them. Our guides show you the most efficientand optimized way of completing these tasks so you can start racking up achievement points.
Guide Content Overview
New Titles In Draenor:

Includes guides for unlocking the following titles: Architect, Artisan, Jenkins, Empire's Twilight, Ironbane, The Indomitable, Talon King/Queen, Stable Master, Draenor Destroyer, Dwarfstalker, Gnomebane, Manslayer, and Scourge of the Keldorei.

Extensive coverage of titles past and present:

Includes guides for unlocking the Crusader Title, Insane in the Membrane, 3 Profession Titles, 5 Explorer Titles, 8 Event Titles, 14 Pandaria Titles, 19 Raid Titles, 21 PVP Titles, and more.

Hundreds of achievements covered:

Covers hundreds of achievements including over 34 Pet Battle Achievements, 1 PVP Achievement, 4 Brawlers Guild Achievements, 67 General Achievements, 58 Exploration Achievements, 103 Quest Achievements, 79 Profession Achievements, 10 Collection Achievements, 34 Scenario Achievements, 57 Dungeon Achievements, 6 Reputation Achievements, and 73 Garrison Achievements.
Key Features:
Achievements Panel Integration.
Zygor's Achievements guide includes the ability to load guides right from games very own Achievements panel for quick and easy access to any achievement you wish to go after.
Dynamic Guide Routing.
For titles and achievements that require your to raise your reputations, skill up professions, or perform other activities covered in our other products the guide will dynamically route you to the relevant content with the click of a button.
Guide Menu Completion Tracking.
The guide menu is able to detect which titles and achievements you've already earned and will automatically gray out ones you've already obtained making it easy to find new ones to go after.
Achievements POI Display.
While you're out and about questing or leveling your characters you will pass oppurtunies to work towards achievements. With our Points of Interest system these oppurtunties will be displayed directly on your maps with one click access to the full achievement guides.