World of Warcraft

Dungeons and Gear

Platform: PC/Mac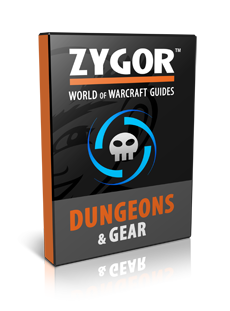 Zygor's Dungeon and Gear guide is a great for players who prefer to level up by running dungeons. The guide provides detailed walkthroughs of the all dungeons quests and boss fights. Furthermore, it includes a suite of features that will help you find the best gear upgrades for your characters, including which bosses drop the best weapons and armor and which dungeons have the most upgrades.
Master Every Dungeon. Dominate Every Raid.
Navigate every dungeon like a pro.
Find your way around instances like an expert with our on screen instructions that will tell you what's ahead, where to go, and how to complete challenging objectives with ease.
Play any group role with confidence.
Easily jump into any group role (Tank, Healer, DPS) with our role based strategies that teach you how to play each class type most effectively against the toughest foes.
Learn the ins and outs.
Master the ins and outs of every dungeon, become a better leader, and cut down on group wipes and party members quitting in the middle of a run.
Discover the most powerful gear.
Find the most powerful gear and coolest looking upgrades for your character without having to research anything.
Guide Content Overview
Complete Walkthroughs For All Dungeons:

Complete dungeon walkthroughs for all the latest dungeons in Legion such as Darkheart Thicket, Eye of Azshara, Halls of Valor, Neltharion's Lair, Assault on Violet Hold, Black Rook Hold, Maw of Souls, The Arcway, Court of Stars, and Vault of the Wardens. Includes Classic WoW, Outland, Northrend, Cataclysm, Pandaria, and Draenor dungeons.

Complete Walkthroughs For Over 40 Raids:

Zygor's Dungeons and Gear guide now covers over 40 raids including Blackrock Foundry, Highmaul, and Hellfire Citadel.

Dungeon Questing Guides:

Step by step guides for all dungeon quests using the same high quality format seen in Zygor's Leveling guides.

Detailed Combat Strategies:

Detailed combat strategies break down complex boss fights phase by phase. Whether you play as a Tank, DPS, or Healer you'll always know how to play your class and how to help others play theirs better as well.

Gear Guide:

A database with thousands of pieces of gear is cross checked against your character to find the best upgrades available at any level.
Key Features:
Gear Advisor
The Gear Finder scans your existing gear and compares it to a database of thousands of items to find new upgrades for your character, including which dungeon they are in and which bosses drop them. You can then load the guide for those dungeons and be led right to them.
Instant Guide Detection.
No need to browse menus looking for the right guide, as soon as you enter an instance Zygor will detect it and allow you to load that dungeons guide with a single click.
Upgrade Notifications.
Whenever you come across new weapons and armor Zygor will notify you anytime there's an upgrade and can even equip it for you automatically.
Quest Reward Advisor.
Our built in Quest Reward Advisor will highlight the best quest rewards, saving you the trouble of having to look over each one to find one that fits your class. If no upgrade is found, the item that can be sold for the most gold will be highlighted instead.