World of Warcraft

Pets and Mounts

Platform: PC/Mac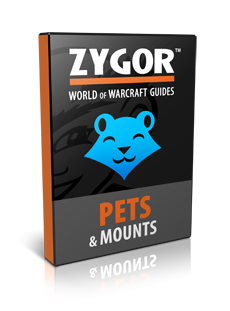 Zygor's Pets and Mounts guide is a huge in-game bestiary for finding, capturing, and taming the numerous creatures roaming the wilds of Azeroth. Whether you're looking for a loyal companion to join you on your adventures, or a swift steed to get you to and fro, Zygor's Pets and Mounts guide is the ultimate guide to have at your side during your next World of Warcraft safari.
Collect, tame, and train hundreds of new companions.
Collect em' all.
Enjoy the addictive fun of collecting hundreds of pets and mounts and complete your collection faster than you thought possible.
Variety is the spice of life.
With Zygor's guide you'll amass so many pets and mounts your only struggle will be deciding which cute or fearsome creatures you'd like to pair with your characters.
Discovery to possession in a snap.
Discover cool looking pets and mounts in the game and obtain them for yourself without ever having to leave the game to research how or where to get them.
Gain an edge in battles.
Learn how dominate in pet battles by choosing the best pets and abilities to counter and takedown the strongest opponents.
Guide Content Overview
New in Legion:

We've added all news guides for over 10 new Mounts, 110 new Battle Pets, and 120 new Hunter Pets added in Legion.

Battle Pet Questline:

Complete walkthrough of the entire Battle Pet questline and dailies including how to beat all the Master Pet Tamers.

Battle Pet Dailies:

Complete walkthrough of the entire Battle Pet questline and dailies including how to beat all the Master Pet Tamers.

Over 400 Battle Pet Guides:

Includes over 400 battle pets guides for all types including Humanoid, Dragonkin, Flying, Undead, Critter, Magic, Elemental, Beast, Aquatic, and Mechanical.

Ground, Water, and Flying Mount Guides:

Ride around in style or take to the skies with hundreds of guides for Ground, Water, and Flying mounts.

Hunter Pet Guides:

Find the perfect companion to fight alongside side you with our Hunter class pet guides which includes all Cunning, Ferocity, and Tenacity pets.
Key Features:
Creature Detector
If you ever see another player with an awesome looking pet or mount you want all you have to do is click on it and our guide will detect what the pet or mount it is and give you the option to load the guide for it. It's that easy.
Battle Pet HUD.
On screen heads up display shows you detailed information to give you increased combat awareness, including which of your pets are strongest against your foes, as well as enemy stats, abilities, spells on cooldown, and more.
Search by name, keyword, or use the pet panel.
Finding the right pet guide is super easy. You'll find one click access to all guides inside the Pet Journal next to each pet, or you can search our entire guide database by specific names (Brown Cat) and keywords (Cats).
POI's Pets on the map.
Our Point of Interest system displays important oppurtunties nearby including Battle Pets in your surrounding area you can tame.