User Manual
Installation
Setup
Guide Menu
Guide Viewer
Navigation
Additional Features
How To Use:
Gold and Auctions Guide:
Troubleshooting:
Zygor Tutorial
Your Zygor Guide has a built in Tutorial that you can accessed at anytime if you're ever feeling confused. Simply click the (?) Help button on the Guide Frame to pull it up.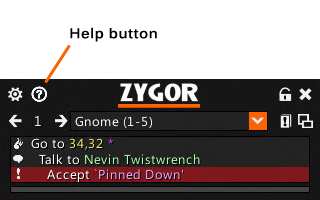 This feature will highlight the different components of the guide and explain how they are used. If you have further questions please consult the later portions of this manual.