User Manual
Installation
Setup
Guide Menu
Guide Viewer
Navigation
Additional Features
How To Use:
Gold and Auctions Guide:
Troubleshooting:
Updating Zygor Guides To The Latest Version
The easiest way to see if there is a new update available is to run the Zygor Client. If you no longer have the Client installed on your computer you can login into the Members Area and download it again.
The Client will tell you the current version you have installed and the latest version available. If a newer release is available the Install button will say Update.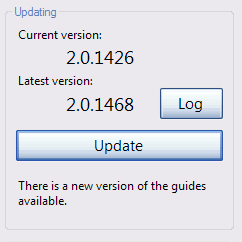 Simply click Update and the Client will automatically update all of your guides to the latest version.

You can click Log to see the list of changes that were made in the latest version. If you have any problems after an update you may need to Repair Your Zygor Guides Installation or see our Troubleshooting section for solutions to common problems.
You can also find help on our official Community Forums where other Zygor Guide users engage in conversations and help one another out.