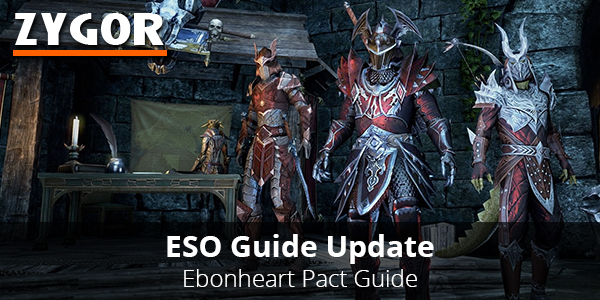 A new release has just been sent out for Zygor's Elder Scrolls Online Guides that fully updates the entire Ebonheart Pact Guides for recent changes made since the One Tamriel patch went live. This patch made it so you can now complete each factions zones in any order you wish, and this huge guide update adds numerous fixes and improvements to all of the Ebonheart Pact zones of Stonefalls, Auridon, Deshaan, Shadowfen, Eastmarch, The Rift, and the cross faction zone of Coldharbour. The full list of changes can be read here: http://zygorguides.com/updater_eso/changelogs/.
This is the final faction update of the three and completes this round of updates.
The Elder Scrolls Online guides are included as part of our subscription service Zygor Elite. If you're already a member you can download the update now, otherwise you can signup for Elite here: http://zygorguides.com/members/signup-elite
Customers who own the standalone version of the ESO guides will receive the update as well. To update, simply run the Zygor Guides client, select the ESO section, and click install/update.