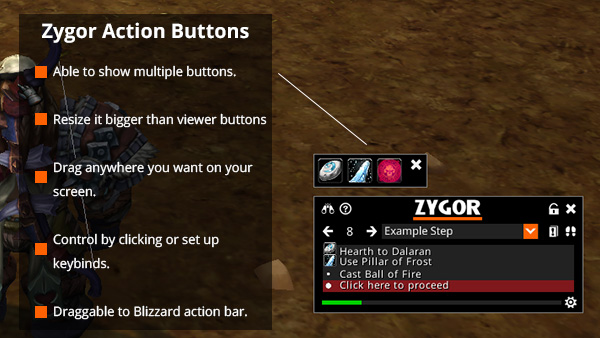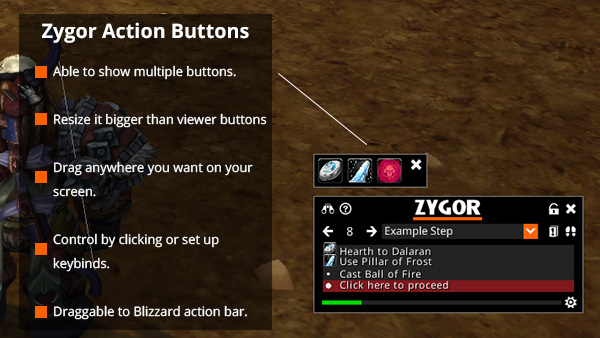 Today we're introducing a small but useful new feature to the Zygor Guides addon. Throughout your time using our guides you will encounter steps that require you to use items or spells to complete goals. While the game does provide clickable buttons for you to use, they are confined to the quest tracker, which isn't always convenient to use.
To aid in this we made it so our Guide Viewer also showed these as buttons directly in the step, but even that option had some limitations, such as the buttons being rather small and hard to click.
That's why we're introducing a new feature called Zygor Action Buttons. This is a separate component that will display up to 5 spells in a custom hotbar. By default, this hotbar will display all the time, but you can set it to only show when needed in the Options. You can move this hotbar anywhere on the screen, or if you prefer, you can drag the action buttons out of the bar and move them directly to the games default action bar. Best of all, you can setup keybindings so that it's even easier to quickly use the action buttons you need to use when playing through guides.
Note that this only displays items and spells needed for quests, and not general combat spells.
Of course, this feature is completely optional and if you'd rather stick with the older method you can disable it. To configure the settings of this feature check under Options \ Guide Viewer. To setup the keybindings g under Key Bindings \ Zygor Guides Viewer. You can download this feature as part of update Ver. 17044.