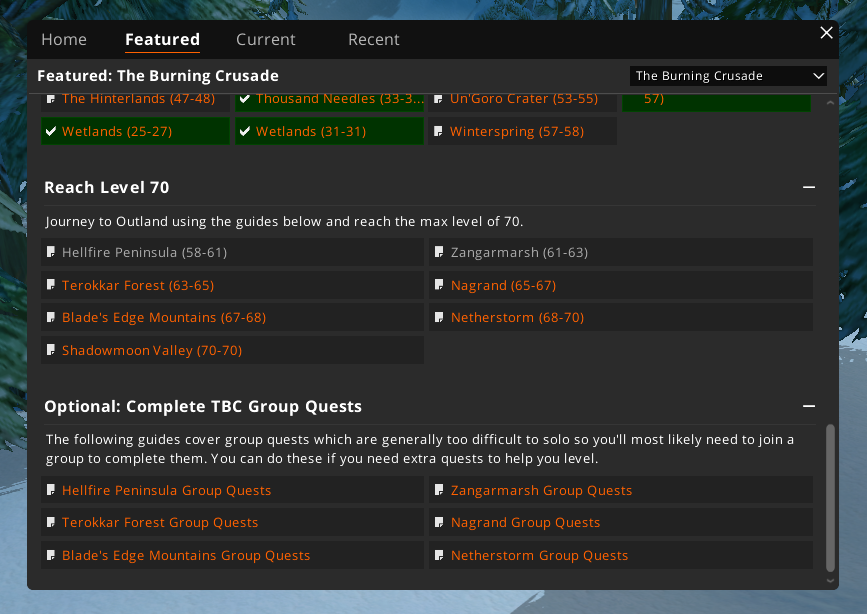 This week we have an update for our TBC Classic guides. In the Classic versions of the game a lot more grinding is required to reach max level than is required in the Retail version of the game. There simply isn't enough soloable quests alone to reach level 70 without needing to grind. However, there are additional Group, Dungeon, and Class quests you can do, and up until now we left out these Group quests because, as the name implies, they're generally too hard to solo and require you to join a group to complete.
However, due to community feedback, we felt that users would at least like the option of doing these extra quests as an alternative way to cut down on some of the grinding, so we're rolling out a new update which adds Group Quests for all of the TBC zones. If you run into a grind step and don't feel like grinding you can load the Group Quest guide for the zone you're in to do those quests and hopefully reduce the grinding. You can find these guides in the Burning Crusade folder of the Leveling section, or in the Leveling Section of the Featured Menu.
We have more updates to come to add in additional Dungeon and Class quests as well. Stay tuned.