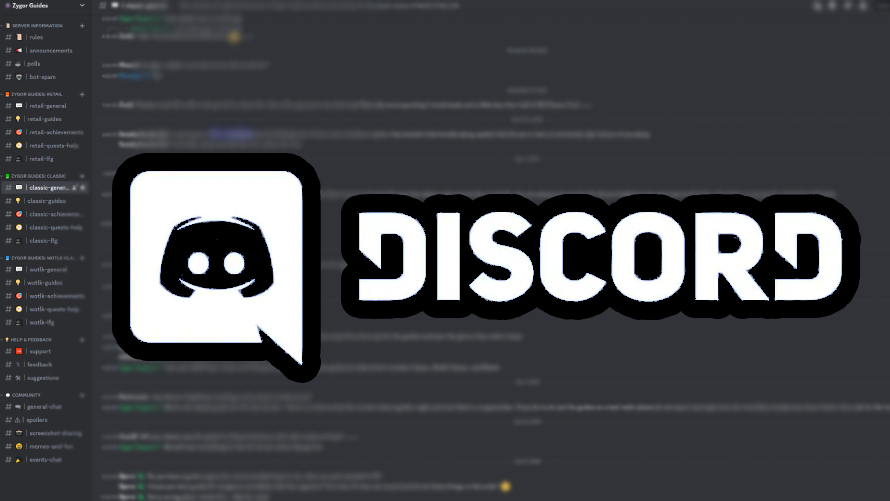 Greetings, adventurers!
We're thrilled to let you all know about some exciting news. Zygor has started the process of fostering stronger community ties by restructuring our Discord server, but there is still much more in store! Our aim is to make Discord a central hub for all Zygor Guides enthusiasts, fostering a thriving community and providing an even more immersive experience.
We will diligently carry out our plans as we move forward and make ongoing enhancements to your Discord experience. We have added more channels for Retail, Classic, and WOTLK Classic players, as well as community channels to share your screenshots, and achievements, among others.
We believe Discord is a vital resource for fostering community engagement and camaraderie. It serves as a forum for discussion, the asking of questions, and the development of deep relationships with other explorers.
Whether you are new to Discord or have some experience using it, we invite you to join us. Those already on Discord, let's make the server even livelier with your active participation. And if you haven't joined yet, this is the perfect opportunity to be part of the Zygor community and stay updated with the latest updates and discussions.
Forum Transition
In the upcoming weeks, we will be moving away from our forums and transitioning over to Discord due to its popularity and the ability to more quickly respond to users and provide better support. Due to this, we suggest our forum users move over to the new Discord by August 1st. With this, we hope to provide you with a simpler and more practical experience in one place.
How to Join the Zygor Guides Discord
Joining our Discord server is easy! Simply follow the link below to become a part of the Zygor community:
Together, We Forge Stronger Bonds
At Zygor, we place the utmost value on our community, and your involvement means the world to us. Discord brings us all together and allows us to communicate, participate in discussions, and have fun.
We eagerly anticipate your presence, interaction with other adventurers, and participation in the special camaraderie that makes Zygor so special as we set sail on this new Discord adventure and carry out our plans.
Let's embark on this journey together, as we make Discord an integral part of our Zygor community!
See you on Discord!