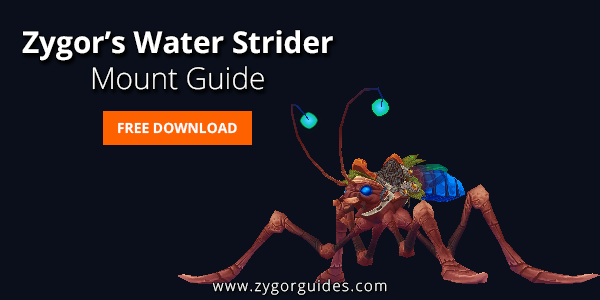 Whenever a new World of Warcraft expansion is released there's nothing quite like the thrill of firing it up for the first time and exploring all of the new content. In fact, it's clear that the game creators want you to do this which is why they always make it so you can't use flying mounts until you reach the new level cap. Unfortunately, this also has the negative side effect of making your mobility in the game feel gimped.
Luckily, there's going to be a nice middle ground in the upcoming Warlords of Draenor expansion. While flying mounts still won't be allowed right away regular riding mounts will be and in the last expansion Blizzard introduced the Water Strider, a mount that can traverse over water. Research from the WoD beta has shown that many of the new zones are broken up by rivers, lakes, and other bodies of water, so you will definitely want to obtain a Water Strider mount before the expansion is released so you can take shortcuts.
Not sure how to get a Water Strider mount? No worries, Zygor has you covered. For a limited time we're including guides for getting your own Water Strider, in all 5 color variations, as part of our free trial. These are fully in-game guides that will walk you through getting exalted reputation with The Anglers so you can purchase your very own Water Strider mount. Signup now for a free trial or simply update your guides if you're an existing member to download the guides.
NOTE: The Water Strider guides can be found under Pets & Mounts / Mounts / Mists of Pandaria / Ground Mounts