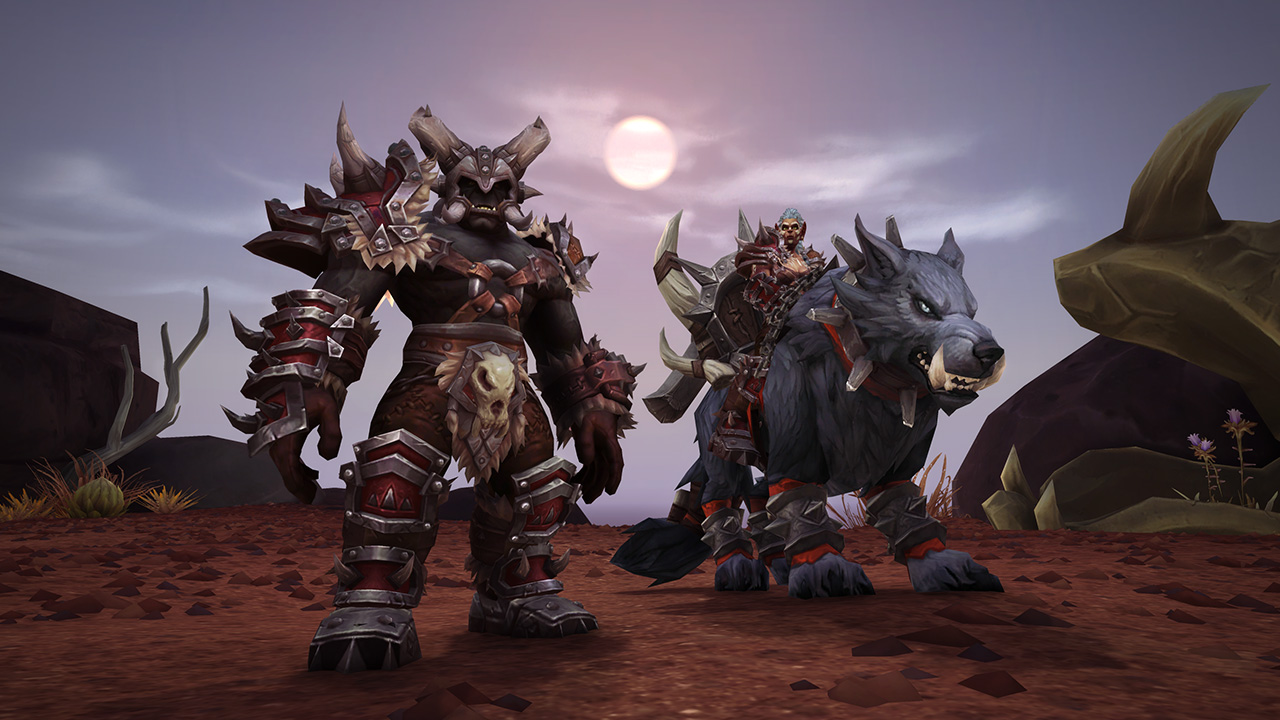 It's been a little over a week now since our Battle for Azeroth guides launched and so far the feedback for the new guides and 7.0 features has been great. There have been some requests for some tweaks though so we wanted to provide everyone with an update on some of the key updates we've made since Battle for Azeroth launched.
The top concern has revolved around what we call "travel lines". These are the extra hand holding directions that are used in the arrow ("Follow the path") and can be displayed in the step (with a toggle). These are intended to take you on a more optimized path to reach your destination. Since people seemed to like these before this expansion we increased the amount of travel lines used in Battle for Azeroth. However, in doing so, it forced players to follow a strict path rather than offering the freedom to roam around, so we've begun cutting back on these and will now only use them when a special travel direction is absolutely necessary.
Also related to travel lines was the way they were displayed on the mini map. Previously, each travel line point was shown with a separate map marker. Many felt these were cluttering the mini map and making it hard to find things. An example of this can be seen below: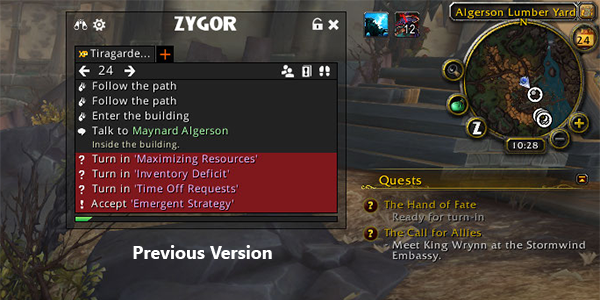 We've reworked the way the map markers work and now your plotted route will only be shown with an ant trail and only your destination will be shown with the circle map marker. We've also enlarged these slightly so you can still see the game icons as shown in the example below.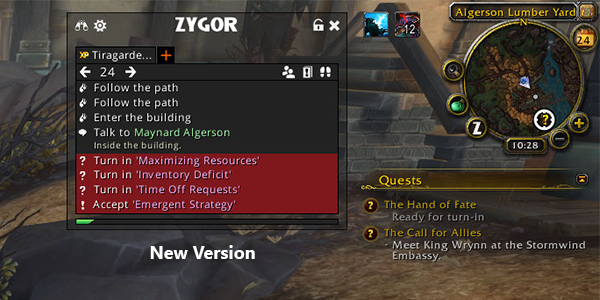 Here are some other noteworthy changes we've made:
[Progress Bar] Re-added quest based tracking.
[Share Mode] Fixed issue that was causing the feature to spam "you're not in a party".
[Map reveal] Added map reveal for Battle for Azeroth.
[Gear] Updated gear stat priority for all classes.
[Talent Advisor] Updated recommended Leveling talents for all classes and specs.
[Guide Menu] Zone screenshots and more added to guide menu when browsing BfA leveling guides.
This is in addition to numerous content fixes and additions we have made. As you can see we are listening very closely to all feedback so please continue to let us know what you think over on the forums. For the full list of changes please see here: http://zygorguides.com/archive/