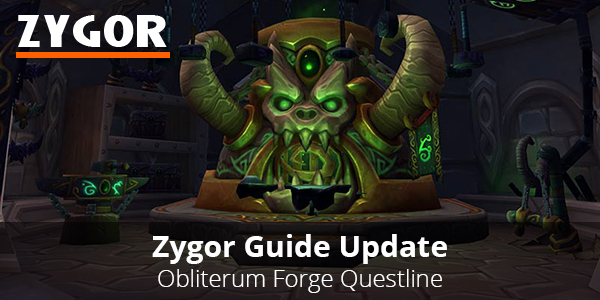 A new release (Version 6.1.15172) is now available that adds in a guide for the Obliterum Forge Questline. Completing this will unlock the forge which lets you break down crafted gear into Obliterum Ash, which you can turn into Obliterum for upgrading.
Additionally, the Zygor Guides Viewer has been updated with basic compatibility with the popular third party addon World Quest Tracker (WQT). One thing that we don't have support for yet is clicking on quest names in WQT tracker, and if you disable WQT, it's recommended that you /reload afterward to restore Zygor Guides Viewer back to its normal operating status.
Finally, several important options have been restored including the option to disable ant trails, Auction Tools default tab option, and auction and mail tools hidden item reset buttons.
How To Update Your Guides:
Here are detailed instructions explaining how to update your guides: