We're pleased to announce an all new feature for the Zygor Guide Viewer…The Zygor World Quest Planner. This all new feature adds a custom Zygor menu frame to the World Map when viewing any zone with World Quests in it while using the minimized view mode. This custom frame allows you to see all of the important World Quest details, such as type, rewards, reputation, time remaining, and more, in a much more organized and easy to read display.
Additionally, you can click on any World Quest in the list to load the guide for it into the Guide Viewer. Best of all, you can use the checkboxes on the left to select multiple World Quests and in different zones and then the orange button at the bottom of the frame to load your own custom "playlist" of World Quests. The guide will automatically string together the quests and walk you through them in the most efficient manner using the Travel System.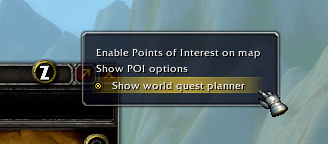 Of course, if you'd rather not use this feature you can easily disable it by clicking the "X" button at the top right corner to close the frame. To re-enable the frame, click the "Z" icon on the map and then check on "Show world quest planner".
Zygor's World Quest Planner is now available to all customers inVersion 7.0.19602. You can read up on how to use this feature in our guide manual: https://zygorguides.com/support/manual/world-quest-planner.
From everyone here at the Zygor Team we hope everyone has a safe and happy holiday, and we look forward to bringing you lots of exciting new guides and features in the new year!