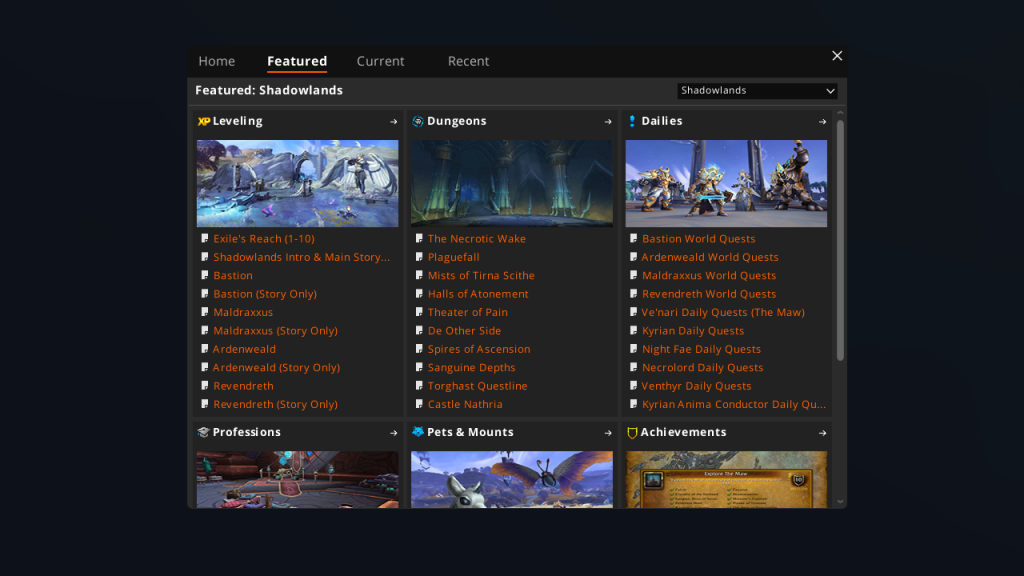 When Zygor's Shadowlands Guides launched back in November we had a substantial amount of content available on Day One, especially for leveling, dungeons, and dailies. Since that time, we've made many refinements to these guides and have added even more content, expanding to cover gold and professions, pets and mounts, and achievements.
Below you will find an overview of all the content that was added on launch, post-launch, and what's to come. You can find all this content easily from the new Featured section of the guide menu.
Launch Content
Here is all the content that we had available on Day One of release.
LEVELING
Exiles Reach (1-10)
Shadowlands Intro & Main Story Questline
Bastion, Maldraxxus, Ardenweald, Revendreth (and Threads of Fate variations)
The Maw
Kyrian, Nightfae, Necrolord, Venthyr Covenant Questlines

DUNGEONS
The Necrotic Wake, Plaguefall, Mists of Tirna Scithe, Halls of Atonement, Theater of Pain, De Other Side, Spires of Ascension, Sanguine Depths, Torghast Questline
DAILIES
Bastion, Ardenweald, Maldraxxus, Revendreth World Quests
Kyrian, Night Fae, Necrolord, Venthyr, Ve'Nari Daily Quests
Shadowlands Profession Guides for all professions
Post-Launch Content
Post-Launch Content
Here is all the content that we've added in the weeks following release.
LEVELING:
Bastion, Maldraxxus, Aredenweald, Revendreth (Story Only guides)
Anima Conductor, Transport Network, Command Table guides for all Covenants
DUNGEONS:
Castle Nathria Raid
DAILIES:
Numerous additional zone world quests
Anima Conductor Daily Quests for all Covenants
Fungal Terminus Daily Quests
GOLD AND PROFESSIONS
Added Shadowlands Farming and Gold Guides
Rewrote Profession and Gold guides due to extensive changes that occured between beta and retail.
PETS AND MOUNTS
83 Battle Pets and 72 Mounts
ACHIEVEMENTS
24 Achievements
Work In Progress
Here are the things we're currently still working on.
Flightpaths Guide
Treasures and Rare Spawns
More Pets and Mounts
More Achievements